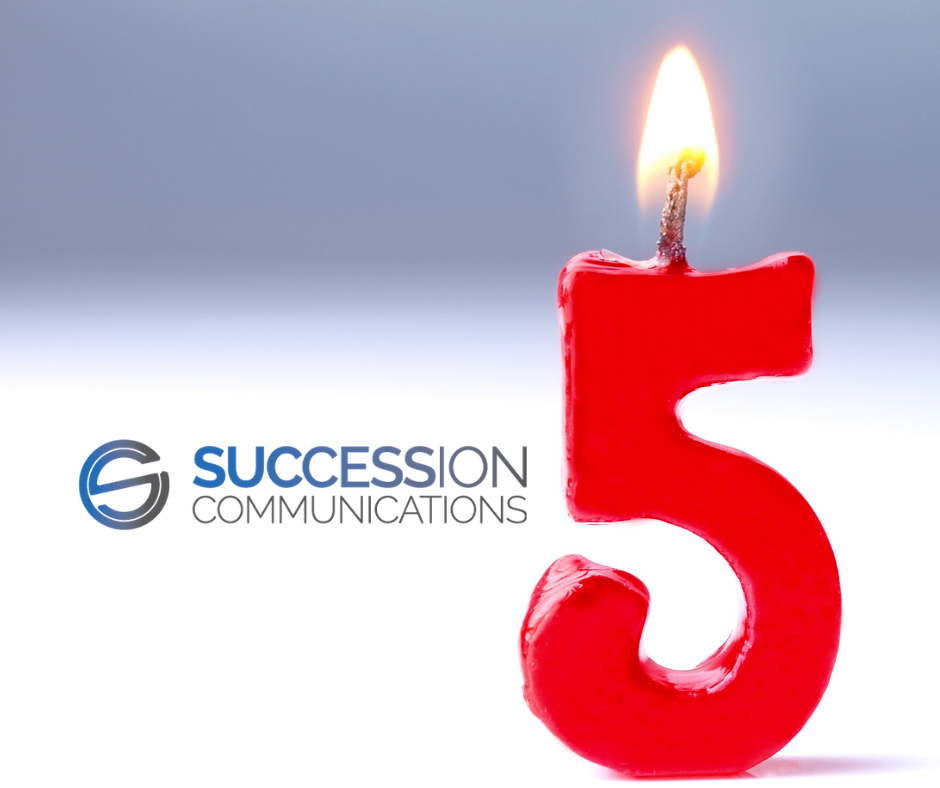 I could not have predicted that my firm would evolve and grow so much throughout the past five years. Succession Communications was born on October 27, 2015. Since then, the work has been challenging and rewarding, but never boring. I'm forever grateful to my phenomenal clients, colleagues, partners, family and friends.
But enough about Succession. With the changes that the PR industry has experienced throughout the past five years, I want to offer five observations to help PR-epare us for the future.
Stand up for your beliefs! PR people used to prize neutrality to reduce risk of alienating audiences, but times have changed. Increasingly, audiences expect companies to share their point of view. In fact, the silence of company leaders in recent months – particularly on significant racial justice issues – has raised some eyebrows.
My advice: Speak out and show empathy. It can damage your reputation if you don't.
ROI is king. Measuring impact has often been a struggle for the PR industry, which relies more on a long game than quick wins. However, demand to demonstrate PR value has grown substantially in recent years. When you get your client ink in a top national newspaper, they appreciate it, but they may also wonder what it means for their business.
My advice: Our world is more connected and data-driven than ever, and that means more measurement tools. It's up to us to find and use them. Muck Rack describes here how PR pros can measure and demonstrate ROI, and tools from Muck Rack and Cision, for example, can help.
Marcom is the new PR. Marketing and communications/PR have always been connected and should work together to achieve company goals. However, the line between these disciplines is rapidly blurring. Many clients demand that PR pros put their marketing hats on, especially as social media use continues to grow. Many of us with a PR background can crank out a press release, but can we develop and place social media ads? We should know how to do it.
My advice: If you're not a marketing expert, take a class. You're going to need it. Download Cision's 2020 PR Trends Report to learn more.
Anywhere/anytime is the norm. The COVID-19 pandemic proved that PR practitioners can telework. Upside? We can avoid a lengthy commute, and business owners may have reduced some overhead costs. Downside? We've identified some risks, too. Anywhere is fine; anytime is not. Beware of burnout.
My advice: Telework will continue. Find a way to establish boundaries.
Want a reporter's attention? Make it easy. Newsrooms have been gutted. Reporters who remain are wearing multiple hats and are juggling way too much. Plus, there's been no shortage of provocative breaking news this year, which may have trumped your client's coverage. To get media attention, PR people have to provide useful, turnkey content. Things like statistics, compelling quotes, infographics, and short videos help busy reporters assemble a story.
My advice: Make it easy for them to cover your client. Give reporters the research they would ordinarily need to do themselves.
As we look forward to year's end, let's raise a toast to the end of the challenges of 2020, and the beginning of a new decade. Here's to your health, happiness and – with the above advice in mind – PR-osperity!